We are excited to announce that The Lyceum Gallery has its own website now. From now on, all gallery listings and happenings will be there. Go here to view it https://thelyceumgallery.com/
Current Exhibition / in the windows and on @theorchardlyceum
Time Capsule I and II
Time Capsule by Lyceum Students Pt I Isolate are the closed capsules showcased in the gallery's windows. Pt II are the contents and stories, posted on Instagram @theorchardlyceum
March 27-31 University of Toronto Viewfinder Club Group Show – postponed
Danijela Gorley Flowers Still Bloom in Wartime April 2-26
Postponed to April 2021
Floral installation by Rosalie Villanueva
Transformation contains both the beginning and the ending. The process of transformation can be difficult, unpleasant, messy and painful, but it can also be uplifting, inspiring, hopeful and full of love.
We are living in an age of great transformation, both globally and locally. Our homes and the planet are changing, our old systems and beliefs are collapsing and a whole new consciousness is awakening.
A major personal event propelled me into my own transformation vortex in 2019. Throughout all the different stages of my own personal transformation, I saw the same stages reflected in nature; flowers specifically. Unfortunately, we have become so separated from the cycles of nature and our own spiritual natures in our daily lives that it took a significant shake-up to realign myself with nature's cycles and to reawaken the appreciation and the need for symbolic language.
Symbolism and symbolic language forms have been used throughout history to illustrate concepts that are outside of words' power to explain. For this photo series, a group of talented local florists and I, used flowers and other flora as a symbolic language to demonstrate the different stages of transformation.
Along with the photos, Rosalie Villanueva is creating a large scale floral sculpture further reinforcing the theme of transformation. The sculpture will be created out of flowers, creating a circular shape with a rupture point, loosely referencing Pluto, which is known as the planet of deep transformation in astrology.
Spanning all our apparent differences, this links us to nature and her cycles, but it also unites us in one of the most universal and commonly-shared human experiences.
Just as the caterpillar transforms into a butterfly, this photo series hopes to honour and show the beauty of this sometimes messy and uncertain process, while instilling hope for an unknown future whose magnificence we have yet to fathom.
Contributing florists: Amira Shabason, Tellie Hunt, Jaimie Reeves, Jordana Masi, Lauren Sellen, Jaime McCuaig, Becky DeOliveira
June 5-18 Orchard Lyceum / West End Phoenix Mentorship Show
Postponed…but coming soon!
https://orchardlyceum.ca/wp-content/uploads/2020/06/IMG_1185.jpg
Students worked with Photo Editor Jalani Morgan of the West End Phoenix to create a series of environmental portraits of community leaders. A midwife, a naturalist, a community gardener and artist and a ballet school founder. They were assigned a formal portrait, a study of an object from their trade and a series of the person in their natural setting. Through this assignment, they learned the ins and outs of setting up a photo shoot, vision boarding, lighting, camera tech, and engaging their subject. Afterward, they learned to to process and work the shots through post-production and printing. As part of the project, they also interviewed their subject about what compels them to do the work they do. We will present that statements alongside the artwork.
Past Shows
ChaCha Chapin The Migrators until March 8th
The Migrators is a collection of 23 standing sculptures of metal, tissue and glaze. They suggest a faceless longing for communion and a journeying toward something. Their identities are simply carried in their shapes and relative positions on the floor.
The second installation continues the story of the Migrators in a series of flat panel assemblages of found objects called Artifacts 1-6. In them, we search for clues to identity and the meaning held in these transformed objects. The viewer is invited to interpret their stories as presented in these found momentos.
January 9-25th Chris Anthon Anatomy of a Parlour
Opening January 9th from 6-8 pm with acrylics on board, framed watercolours on paper and, for one night only, live canvas work.
Chris Anthon is a painter and tattooist from Elora, Ontario. His interest in large scale tattoo work bled into a similar obsession with big, high impact paintings using motifs and designs that honour the traditions of the medium. As an art form and an indelible means of self-expression, tattooing has moved from the margins to the mainstream and on to the canvas over the last several decades.
Past Exhibitions
December 4 – 21 Laura Jane Petelko and Sara Wood: Soft Stories
Inspired by a conversation about "Furries" – a subculture interested in anthropomorphic animal characters with human personalities and characteristics – this work began to take shape. Petelko recognized a strange paradigm, one that connects rather than separates, something elemental. She identified a need for intimacy in a technological world; a collective longing to commune with nature at a time of environmental crisis, and for Petelko, it became important to create tangible yet anonymous characters.
November 7-30 Nancy Friedland and Johanna Reynolds: A Change in the Light
A Change in the Light is an exhibition of paintings by two powerful artists who deftly explore narratives and themes through their own visual languages. Rooted, yet disparate, these two styles contrast beautifully with one another as they communicate in one space. Each artist tackles her theme with a different intent: Nancy's moody narratives suggest love and loss, while Johanna's textured abstracts reveal a physical and psychological journey with the paint on canvas. In both, the overwhelming takeaway is the light that has been created: an optimism.
The artists have each have decided to donate 100% proceeds from the sale of specific pieces (valued at $1200.00 each, to the Gerstein Crisis Centre. This decision was made in honour of a former mentor and friend, Katharine Mulherin. The hope is that this donation will help assist others who may be in need of mental health support. You can also donate to the Gerstein Crisis Centre here: https://www.nancyjanefriedland.com/acquire
Johanna studied Art History and Studio Arts at Concordia University. Nancy completed her MFA at the Rochester Institute of Technology, and studied photography at the Ontario College of Art and Design. Johanna and Nancy both live and work in Toronto, and their work is collected across North America and abroad.
Marina Dempster: in//habit October 5 -November 2
A quartet of 6ft x 2ft ( yoga mat sized) hooked 'yarn paintings' speak to the rewards of both personal ritual and communal practice as an antidote to other numbing habits, addictions and distractions. This crafting 'makes permanent', not perfect, creating more ease and receptivity to adaptive growth, and new dimensions of perception and renewal.
'In//habit' embodies a deep universal rumbling, and a reckoning toward connection.
A tactile transmutation of shame to grace, fear to love, woe to wisdom.
"May all that is unforgiven in you be released. May your fears yield their deepest tranquilities. May all that is unlived in you blossom into a future graced with love." – John O'Donohue

Special thanks to the OAC for their support.
and… Dear Friends and Near Enemies
This fibre installation of 20+ pieces.
Complete installation $10,000 CAD or individually for $500. Ten percent of sales will be donated to The Centre for Addiction and Mental Health | CAMH.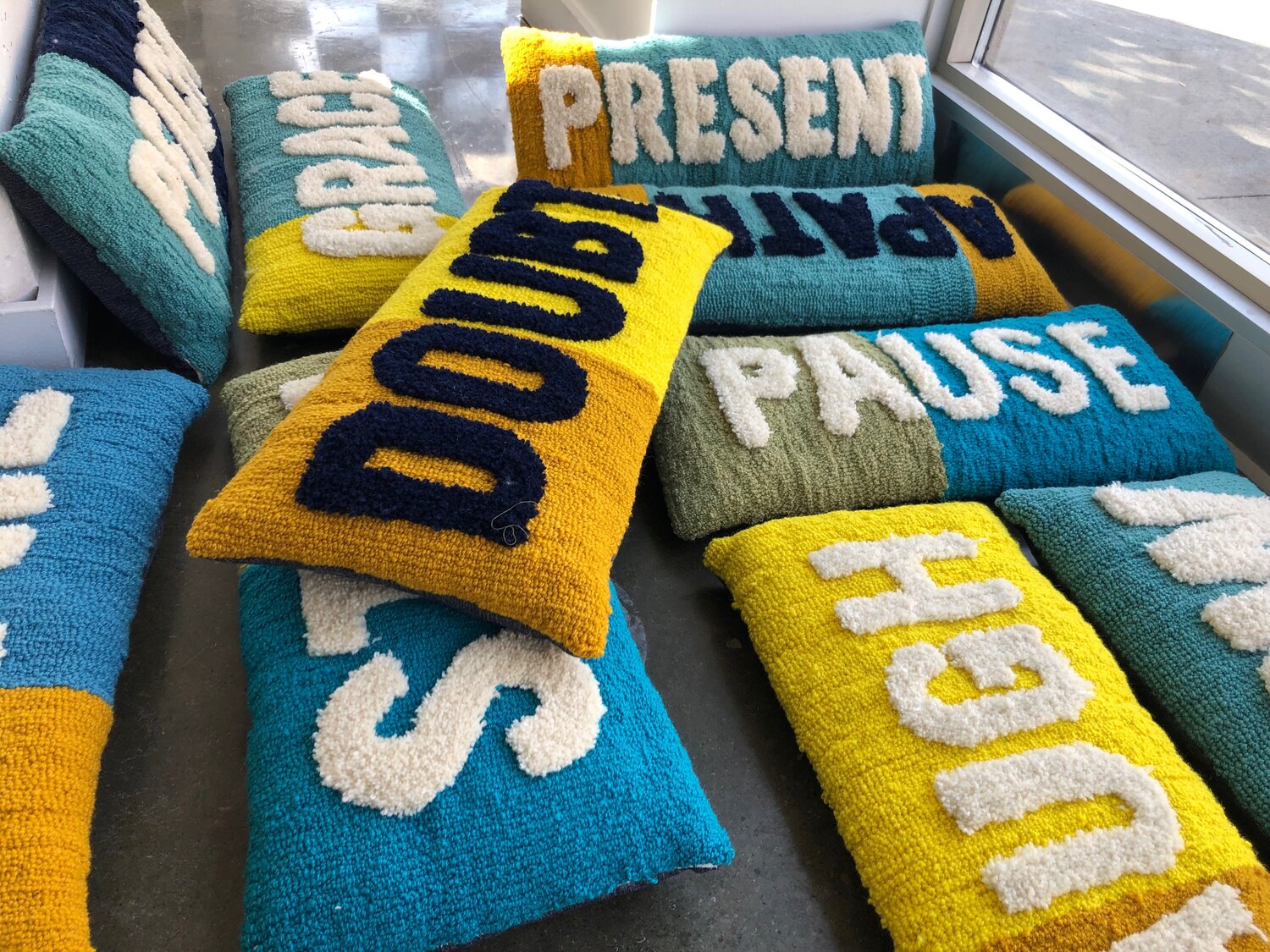 October 5th 7pm until the effect wears off…The Ambrosia Collective presents In The Time Being: Three Iterations A dance/music collaboration using mind maps and graphic notations inspired by Marina Dempster's textile work.
"the goddess saved us; she brought us ambrosia and placed it under our nostrils" Homer Photo: Marina Dempster Photography
A Triptych, Three Dancers, and a Trio of Musicians in Three Rooms
Sculptural fibre installation artist Marina Dempster provides the flint for a dancer. She is accompanied by a bassist and the two of them start a sensorial dialogue while another dancer witnesses from a chair nearby. She in turn responds to the impulse and transposes it into the next space before a final movement completes the train of thought. The audience follows this conversation, swept along in the collective experience of transference.
There is a pause before the act repeats with a new audience.
The peace table is a simple wooden box that sits in the Montessori classroom and acts as a repository for complaints, slights, injustices and reconciliations from the age of about three. Children are encouraged to talk through their issues and as they get older, to negotiate a compromise or simply to acknowledge another viewpoint. Eventually, the hope is they will internalize this framework; that this process will weave itself into their moral fibres as consciousness dawns in the second plane of development. This year, the oldest children in the school went to Model UN in New York and used their internal "peace table" to frame and advocate for solutions to sensitive problems facing the world. These students are the inaugural class of the Orchard Lyceum and their arrival in this new place, both physically and metaphorically, is the impetus for the Peace Table Project. There are four aspects to it:
The Peace Table -The peace table sculpture is a collection of drawings and Poloroid photographs collected from the children throughout the school that describe their memories, both recent and distant, of using the peace table. They were podged onto a wooden table which was overwritten with their words about their experiences at the table. Finally, the whole thing was sealed under a resin pour. What was once a concrete materialization now becomes an abstract, symbolic mental map expressed as sculpture.
One Hundred White Poppies and Their Shadows – Inspired by the traditions of wearing white poppies and in recognition of the first Armistice of 1919, this work recalls one hundred years that we, as a human race, have actively wished for a future free of armed conflict.
One Thousand Cranes for Peace – This sculptural piece is made up of one thousand origami cranes installed in a cylinder to raise hope that the dreams of future children will not be destroyed by war.
Reflections in Five Colours – This installation was inspired by the prayer flags hung by members of the local Tibetan community. Following traditional methods of block printing with henna inks but using words collected from Orchard children, we've created a ceiling full of flags they will give away at the end of the show to be flown in gardens and on porches around the neighbourhood.